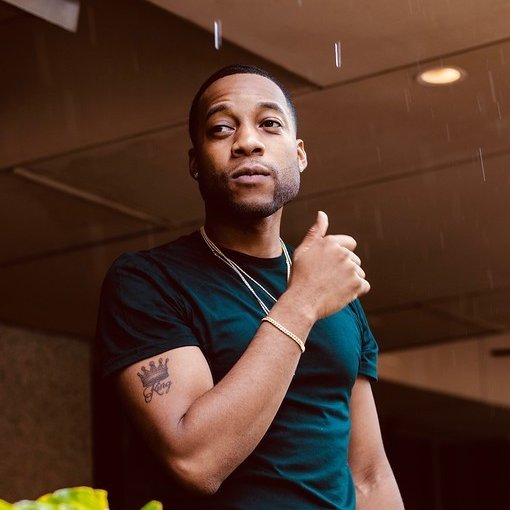 Episode 10 – Spotlight Artist DMONEY MARTINEZ
Posted on
September 24, 2019
Within this episode DMoney talks about:
*His love of Music as a child
*Learning to play intruments, write, produce and engineer
*His vision of Boston's Music scene
*His collaboration with Maino
*His contribution to New England's Urban Music Culture
They say "The apple doesn't fall to far from the tree" and with a background of family musicians, it didn't take long for Martinez to realize he had a passion for music. He grew up watching his dad play bass and sing for a band he and his brother formed in the early 90's. Martinez always wanted to attend band rehearsals because he understood he was to young to attend events. His dad noticed his ambition and the love he had for piano, and bought him his first keyboard at the age of 6. Since then DMoney Martinez has not stopped perfecting his craft.

Born in Boston, Massachusetts; Derrick Martinez, better known as DMoney Martinez, is the embodiment of the East Coast. His East Coast swag is noticeable yet clear in interpretation. Martinez' is a young Hip Hop artist with a grind and the drive like no other entertainer. Being so young, his professionalism and his consistency of working in the studio have not only influenced the young but also artist already in the music industry. He says, "Perfekt & Chance and SupastarLT has taught me so much about being on top of my game that I refuse to fail".

DMoney Martinez found his love for hip hop music sometime in between middle school and high school. Between the age of 13 and 17 he began to gain popularity just because of how he carried himself. He was hip hop and carried the culture in him from the way he talked, walked, and dressed. All the cool kids wanted to be just like him. He then began attending talent shows, show casing his raps, which he just did for fun. He didn't start taking rapping serious until fans started encouraging him more. Because he played piano he experimented with his own beats, he started to rhyme off of beats he made and recorded them through his two-track tape recorder, and handed them out as demos to everyone he knew.

DMoney Martinez has been featured on various mixtapes including his very own "My Definition", "Almost Famous" and most recent set to release in 2014 "Making My Mark". DMoney Martinez has also made a name for himself by making catchy melodic hooks. He was recently featured on Eddy Fish's first official single "Whole Lotta Money (feat. Yo Gotti)" off of his mixtape "Real Nigg*s Know" and was also able to participate on a few more records on that mixtape with acts such as Scarface out of NY and Gunplay from MMG.

With a cinematic sound that paints a vivid picture, DMoney Martinez's music is fun, authentic, and experimental and he hopes to turn his hobby into a profession where can build and add on. Starting with "My Definition" through "Almost Famous" and now his latest effort, "Making My Mark". Although some of his records choice doesn't quite communicate what type of artist DMoney is as a whole, it certainly shows his diversity as a artist. He can make a hit club banger and then turn around and make a crossover record to lyrically captivate audiences across the world! DMoney Martinez has been creating his own distribution through the media gaining thousands of fans on Facebook, Instagram, and Youtube and using it to his advantage to sell records on iTunes and maintain relevance in the streets!
This young artist is SOON to be on TOP!!!!!

FIND DMONEY MARTINEZ ON ALL SOCIAL AND MUSIC PLATFORMS