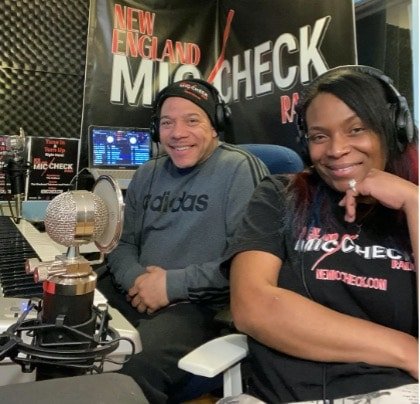 Meet Ronnie Ruff & Lady T
The Brains & The Voices Behind New England Mic Check Radio
Ronnie Ruff
Ronnie Ruff is an entrepreneur born in Boston and raised in Brockton who began his career spinning records at local house parties, selling mix tapes and producing for local singers and rappers. He would go on to become a popular on-air personality at UMASS Amherst's WMUA 91.1FM, and win a Boston Music Award in 1991 for Best New Artist with his song, "It Comes From Boston." He also still works as a Special Events DJ for
Entertainment Specialists, and as a Music Producer for his own Ruff Music & Radio Production.
Ronnie Ruff came up with the idea for New England Mic Check Radio while working with the promotions team at Entercom. Entercom took a leap and added an urban music station (WKAF 97.7FM), and Ronnie Ruff became a Mix Show DJ and a producer of Community Focus, an urban public affairs program hosted by the Urban League's Darnell Williams.
"At Entercom, I was able to get on the path towards my calling. I worked with the best team in the business, and with their help, I was able to learn the business first hand."
After 97.7FM was sold to iHeart, they slowly trimmed back on on-air talent and changed the format to be more pop-oriented. Much of the team had been disbanded, and Ronnie Ruff took his knowledge, skills and experience and began the groundwork on New England Mic Check Radio.
"I was always frustrated with commercial radio's formats and the lack of support of local urban music. I always vowed that giving the opportunity I would change that."
Lady T
Lady T is a singer/performer with the region's most sought after party band The World Premier Band and joined Ronnie Ruff as a Host on New England Mic Check Radio, from the onset. Born Tristian Leach in Upstate New York, Lady T developed her passion for music at an early age, joining the church choir at age four.
Over the course of her childhood, Lady T developed an additional passion for health care and moved to Boston in 1998. She graduated from Health Careers Academy
Charter School at age 17, while simultaneously studying singing and piano at Bristol Studios. While pursuing a career in music, Lady T also became a personal care assistant.
"I was adamant about attending Berkeley School of Music, but they turned me down and I decided to do it on my own."
Their loss! Lady T, managed by her mother at the time, went on to open up for popular artists such as Lenny Williams, The Philly Intruders, Andre Ward, and The Spinners. She joined her first band at 19 and became known as "The Illustrious Lady T." After eight years and an LP called "Nobody's Business" which achieved marginal international success, Lady T joined the popular wedding band Pulse of Boston while going on to obtain her massage therapy certification.
"I believe that music heals the soul so considering my passion for health care, it was fitting for me to become a healthcare provider while pursuing my music career."
In 2016, Lady T found a home with The World Premier Band, gaining recognition down the entire east coast for her powerful pipes, mesmerizing moves, and stunning stage presence.
In 2017, Lady T and Ronnie Ruff crossed paths working a Bridal Show hosted by Entertainment Specialists of who are their booking agents. While working together, they became close friends and realized the natural fit they would be as co-hosts on New England Mic Check Radio.
"We love what we do.  It's a lot of work but we have so much fun.  It's a blessing that we're able to use our god given skills to uplift so many others from our region the way they deserve to be recognized."
53 Episodes and 2 years later, the two have become the region's Dynamic Duo.  Their interactions on the mic are positive, uplifting, funny & extremely entertaining.  Lady T & Ronnie Ruff are on a serious mission to bring the world into New England's Urban Music Culture.
"Stay Tuned, we're not going anywhere!"