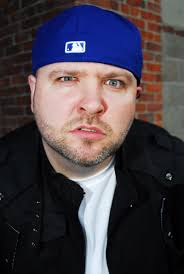 Spotlight Artist: Slaine
On This Episode Slaine talks About:
Growing Up In Boston
His inspirational Music Career Journey
Touring Worldwide with House Of Pain
How he got into Acting and the Big Screen
His struggle with drug addiction and becoming sober
His Recent Album "One Day"
His admiration for New England's Music Scene
And much more…
After tussling in the streets of Boston for years as an underground rapper, Slaine caught a break in the music business and the film industry almost simultaneously. The Dorchester-born storyteller was first discovered by Danny Boy of House of Pain and plugged into the group's reformation as super group La Coka Nostra. At the same time the Boston Herald broke the news on La Coka, Ben Affleck was looking for an actor that could bring street credibility to an essential role in his directorial debut, "Gone Baby Gone." Affleck opened up the newspaper and found his answer.
Slaine has landed four albums in the top 20 on Billboard's hip hop chart since 2009 both as a solo artist and with La Coka Nostra and has appeared in ten films in the same time span. In the hip hop world Slaine is known for his ability to tell dark stories and take listeners into a world of drugs, violence, love, loss, pain and dreams and nightmares. He has drawn from that same well to bring authenticity to some of best crime dramas of this generation.
He is a member of La Coka Nostra, Special Teamz and the world famous hardcore crew DMS. He has worked in collaboration with icons from DJ Premier, DJ Muggs, Pete Rock, Statik Selektah and Evidence to Everlast, B Real, Raekwon, U God, Snoop Dogg, Sean Price and ILL BILL. Over the course of the last decade Slaine has become an essential artist and storyteller in a lane of hip-hop that celebrates boom-bap production and lyricism.
@slainesworld