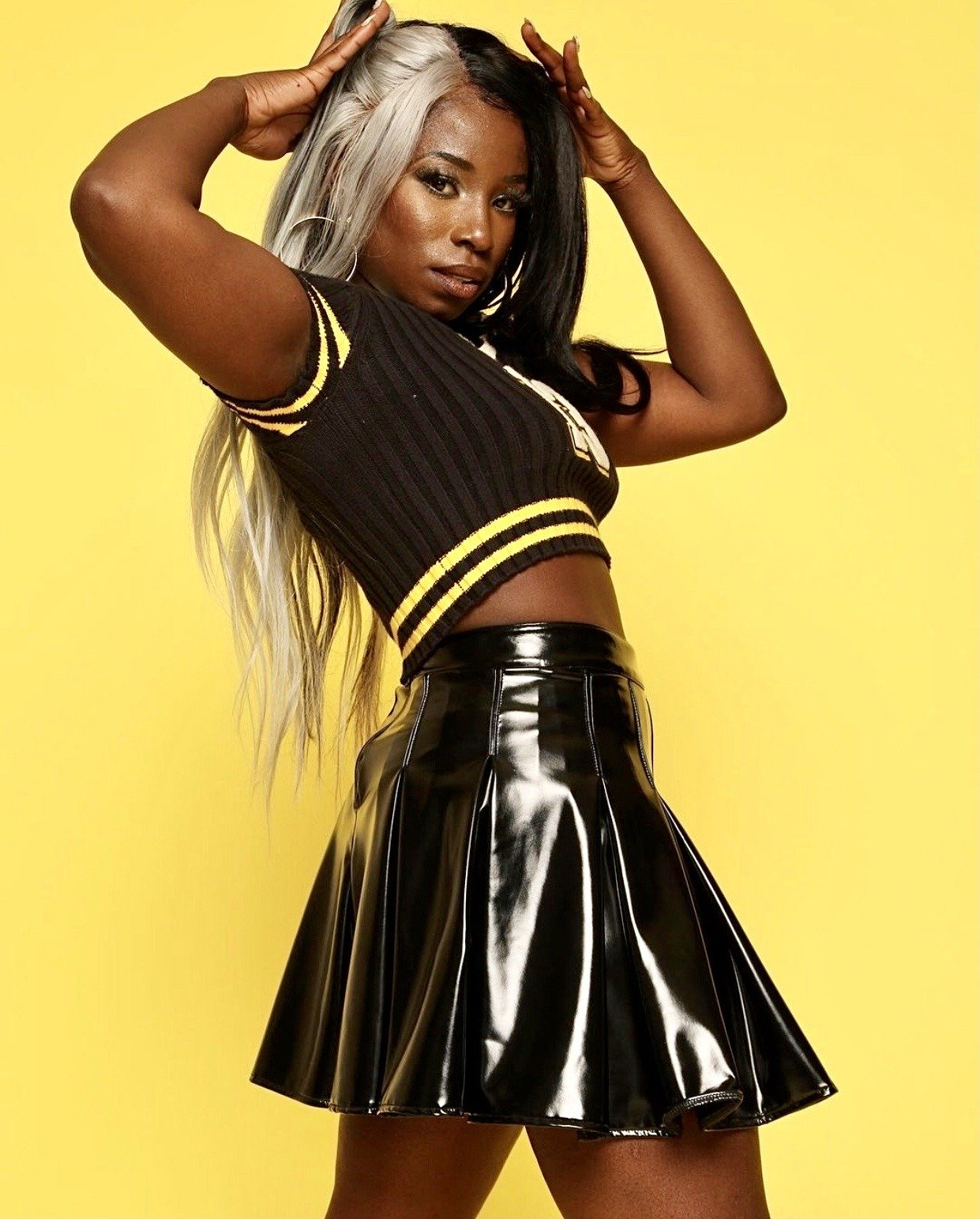 Spotlight Artist: TeaMarrr
Destiny depends on hustle.
Shaking up pop, R&B, and hip-hop with a sharp sense of humor (and sharper mic skills), flaunting an otherworldly outsized fashion sense (like Grace Jones gone Candyland), and blessing each phase of her art with a teacup (of origins she will not disclose), TeaMarrr imagined a world of her own—and actually went one step further to bring it into existence. Since emerging in 2017,the Boston-born and Los Angeles-based Haitian-American songstress backed up every word through consistent independent output, leaping from an underground phenomenon to the flagship artist on Issa Rae's Raedio in partnership with Atlantic Records. Acclaimed by everyone from Flaunt and NPR  to Ones To Watch and Consequence of Sound and streamed upwards of 4 million times as of 2019, she turned personal promises into a wild, weird, and wonderful trip…
"I say the weirdest things, and they just happen—like I spoke them into existence," she grins. "I keep sayings things until an opportunity comes. Then, I jump on it. I found tweets and old diary entries where I wrote 'I'm going to be a star one day.' Now, I think, 'Girl, what were you trying to do? You weren't writing songs yet! You weren't singing!'," she laughs. "Once I said those things, I found a way to do them. I believed in the words I said, but I put the work in, evolved, and kept growing."
She planted the seeds for this growth as a kid in Boston. Mom enforced a strict edict around the house: no television Monday through Friday. Instead, she encouraged TeaMarrr to "read a book or write a book." This fostered the development of an expansive imagination and a magnetic attraction to music as she admits, "The Notorious B.I.G. and Amy Winehouse were my two biggest influences. If they had a baby, it would've been me."
She took the first step on her journey during a visit to Toronto. After freestyling to "Shook Ones, Pt. 2," friends implored her to go further. This set off an explosive chain of events. In 2017, the independent Thanks for the Chapstick EP fueled early buzz with cuts like "In My Mind." However, everything changed with her 2018 single "One Job." Not only did it put up 1.2 million Spotify streams and land her an opening spot for H.E.R. (handpickedby the star), but it also caught the attention of Emmy®Award-nominated director, writer, actress, and producer Issa Rae.
"I feel like that was manifested, because I was obsessed with Awkward Black Girl since high school," she goes on. "I always thought I would be independent. I take a lot of pride in it too. When Issa told me she liked the music and she wanted me to be her first artist, I was said, 'Fuck it, I'm going to do this, because it's you!' We have a similar sense of humor. The vibe was genuine and natural. It's almost like one of my friends from high school just ended up becoming famous and I'm having dinner with her. I saw myself in Awkward Black Girl. I see myself in Insecure. I think God set it up like this. It's black girl magic throughout the whole team."
The 2019 single "Kind Of Love" pops off with its own kind of magic.Over a nineties-style throwback echoand horn samples, she bobs and weaves between sexy soul swagger, island mystique, and subversive appeal. Everything drips into an irresistible chant.
"I was in a really free space," she admits. "I didn't have a crush on anybody. I was just wanting to crush on someone though, so I went through everything I wanted him to be like. I'm really expressing what I look for in a lover. Speaking of manifestation again, after we made the song, I got a boyfriend!"
In the end, TeaMarrr built all of this with a bigger purpose in mind, which becomes clear on her forthcoming full-length debut and so much more…
"I want people to heal themselves with my sound," she leaves off. "I hope they walk away thinking, 'TeaMarrr is my new musical pharmacist.' My catalog will heal whatever mood you're in. If you're in a lovey-dovey vibe, put on 'Kinda Love'. If you're feeling nostalgic, I've got something for that. If you're angry at your ex and don't understand why he couldn't have done the one thing you asked him to, I definitely have a song. Share the medicine. I want to be a sonic doctor and make you smile."
@teamarrr