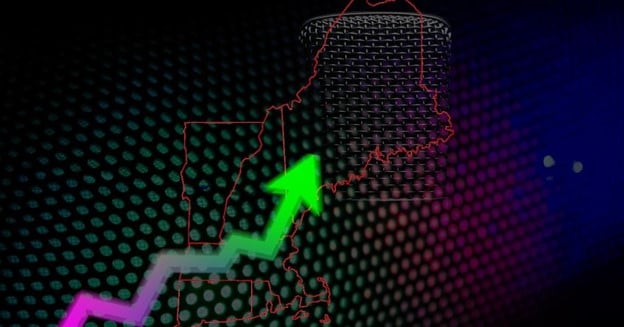 The Rise of the New England Urban Music Scene
How the Once-Sleepy New England Urban Music Scene is Making National Waves
The Urban Music Scene is undergoing a massive reconstruction in New England. What used to be a scene largely devoid of local collaborations and national artists who would avoid their New England roots has become collaborative, and now artists are more accepting to draw a correlation between their art and the region. How and why is this happening?
Artists are Expressing Local Pride
In other cities that have been popular throughout the history of Urban music, the main driver has always been collaboration and artists putting each other on in their region. The earliest days of hip hop in New York City were driven by artists who would represent their Burroughs relentlessly. This would set the tone for New York, a scene known for putting on its own with artists who would show love for where they were from.
From those early days, one of the hallmarks of the urban scene would be where the artists are from and where they represent. That's how other cities like Philadelphia, Detroit, Los Angeles, Atlanta, St. Louis, and other staple communities for urban music would get their recognition and respect … but where was New England?
The New England scene has always been a bit of a mirror of the city of Boston itself—a rat race to the top, where everyone is constantly scurrying about trying to get theirs without paying much mind to others. That's not just the Urban scene, that's the city and the region in general.
Today it feels different and there's something bubbling up in the region. The talent is flowing over the top, the music is amazing and diverse, Artists are collaborating and putting each other on, and the listening community is responding positively.
Artists of National Prominence are Starting to Own Their Home
The Urban music scene has always been particularly stark in New England.  It's been a long time since Donna Summer, New Edition and New Kids on the Block's meteoric rise shone a spotlight on Boston.  The region has been starving for diverse artists to break through and then represent & recognize their community.  For too long, artists didn't feel the love.  They would relocate to New York, Atlanta or Los Angeles and make those places their de facto homes, shunning their New England roots.
But things are, once again, changing! Artists with national prominence are starting to more strongly connect to their New England roots. Recent prominent talents like Millyz from
Cambridge, MA, Chris Webby from Norwalk, CT, Bia from Medford, MA, Coi Leray from Roxbury and Joyner Lucas from Worcester, MA (to name a few) have risen to national prominence and are feeling the local love. The excitement that has generated in the local scene is massive, and in that way alone, they give back so much more than they realize.
Digital Platforms and Outreach
Traditionally Commercial Urban Radio stations in New England are scarce and hardly ever feature local Urban Music. It seems that every time an Urban radio station popped up and caught steam, the corporate suits in the radio world flip it with the consensus that there isn't enough profitability. We were there when 97.7 launched in the Boston area—people were excited! The community came out in droves, thrilled that they finally felt they had musical and artistic representation in the area. Once the station changed hands, the new owners decided it wasn't marketable enough and changed the format to be more pop oriented.  We were always brought up just to be broken down again.
Today a key driver in the recent rise of the New England Urban music scene is the rise of the region's streaming digital footprint.  Excellent digital platforms like @itslitboston @cwtfbradio @themuseumtv and @newenglandmiccheck have become instrumental in helping local artists and enthusiasts connect, helping to define what the New England Urban Music scene is about and giving it a new and true identity.  When local artists are played more locally, it makes sense they would receive more local love, and there's plenty of profitability in that!
We at New England Mic Check Radio are thrilled and proud to be part of providing a conduit for local artists to play their music to a worldwide audience, putting the culture first, connecting with the community, and  building stronger connections in the local industry.
That's why we are all here. We're here to provide a conduit for the community to rise up and have their voices heard! People are starving for content, and there is a strong topical emphasis on highlighting Urban voices. It's working, and the New England scene is rising.